Podcast Episode 4 – First Aid in Spain – Would you know what to do?
That's the powerful question that we asked ourselves in our First Aid Course with nurse, midwife and Emergency Responder Trainer, Anne Halpenny from First Aid Spain.
Today she explains what YOU can do in a crisis.
Anne is a nurse and a midwife who I have worked with for well over a decade. But today we chat after our First Aid course at the clinic.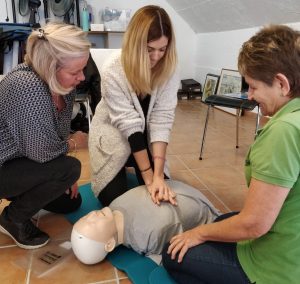 Would YOU know what to do?
Anne starts her course asking about situations when you might have wanted or used your previous knowledge of First Aid. And asks if we would know what to do in these situations. 
We go from our (fortunately limited!) real life experiences to simulations and techniques including the new addition of how to use a defibrillator (surprisingly easy and NOT scary!)
We also talk about what to do in an emergency and Anne talks us through what to do, with or without First Aid training, if you do end up on the scene in an emergency.
Important points – Emergency number in EUROPE – 112
And make sure you listen to the end for Anne's top tip in an emergency – it's not what you think!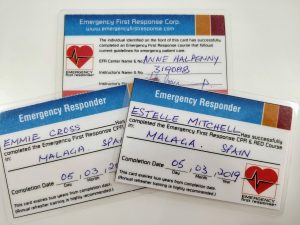 And, just to reassure you, all our staff passed with flying colours!
Want to brush up your first aid on the coast? There are 3 places left on our First Aid course on 9 April 2019. Email us on [email protected] to book a place or get details of future courses. 
Your help
As always we need your help too! We need your questions, queries and wonderings so that we can make sure this is useful for you. We've already had some fabulous emails but we always want more!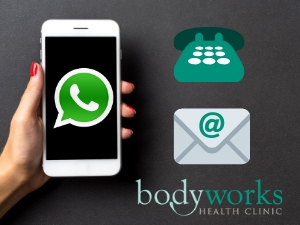 So if you have a question you think we should be answering then please, send us a voice message on WhatsApp – 699703936, an email to [email protected], message us on our Facebook page or leave a comment below.