Secure Video Consultations with Clinical Professionals
I started alone – just me offering video consultations during this period when face to face appointments aren't possible.
But slowly I have been joined by a growing group of professionals who are able to offer support and services for their patients online. It's an amazing insight into the future!
International support
Of course one of the strengths of this method of support is that it doesn't matter where you are – you don't need to be in the same town or even country to be able to access the best medical health care!
Which is great news for all of us right now, but looking forward, great news for our particularly multi national patients!
How does it work?
Super simple!
You can book online through our system OR email us OR send us a WhatsApp to book your appointment
You decide if you would like your appointment through our secure, online system, WhatsApp video or Skype (all 3 are secure and meet all EU data protection requirements and have end to end encryption!).
At the time you chose your practitioner will start the appointment in the software of your choice.
If payment is due you can do this online via our secure payment system – we will send you a link to do this.
Who can I see?
Estelle Mitchell (that's me!). I'm a UK Chartered Physiotherapist who specialises in musculoskeletal issues – so I'm the expert in knees, hips, back pain, shoulders, wrists, nerve pain.
In the appointment I'll take the details of your current situation and other medical history.
Then I'll assess your movement – I might need you to take off an item of clothing or move around so make sure you are somewhere quiet and private.
Then we'll put together a plan for how you can improve – this can include changing your work station or other postures (this is where video is SO great!), exercises and simple movements, self massage and treatment.
And I'll pop all the details in an email to make sure you remember and can keep going!
---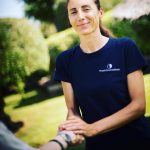 Then there's Sports Physiotherapist and Golf Specialist Chiara Cantone.
Originally from Milan Chiara also speaks fluent Spanish and English so can help if English isn't your most comfortable language.
Chiara specialises in getting you back to your sport NOW!
Like me she'll take a detailed medical history and then start with movement analysis – only her analysis will focus more on the movements you perform as part of your sport, with a personal obsession with the perfect golf swing!
---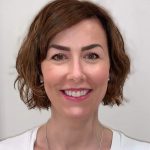 If isolation has you reaching for the junk food or finally given you time to address that lingering digestive issue then you need our Digestive Health and Nutrition expert Lisa Manley Cahill.
She'll address your current diet and symptoms and talk you through how to move forward and reduce your issues with digestive discomfort, IBS, food intolerances and hormone imbalance.
---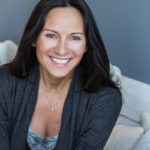 Need something that addresses the mind and spirit a little more? Wellness guru Rebecca Richards offers 30 minute or 1 hour appointments to address a wide range of issues.
She'll create a detailed understanding of your current situation and then help you use a combination of mindfulness, yoga, self massage, acupressure and relaxation techniques so you find your own path through this strange situation.
As she regularly reminds all of us – you cannot pour from an empty cup. So make sure you take time to address your own needs while caring for those around you.
---
Not sure if an online appointment is suitable for you? Give us a call on 952 883 151, send us an email or a WhatsApp on 699703936 and we'll discuss how to make sure you get the best support possible, either with us or arrange an onward referral.