Still Open – Still essential!
Well, here we go again!
As of midnight this morning (Wednesday 27 January) Marbella enters Level 4, Grade 2 (Nivel 4, Grado 2) for 14 days, until 10 February. Which means all non-essential businesses must close completely.
Fortunately we are a health clinic and are therefore considered essential!
So all appointments that you have booked at the clinic can still be attended. Emmie can send you a "justificante" in nice polite Spanish to show at the municipal border to allow you to enter.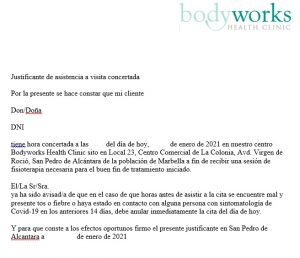 We continue to be open as normal – 10.00 – 14.00 and afternoons by appointment. Even the occasional evening or Saturday morning has been known!
Official details of each municipality (in Spanish) are on this website so you can check your specific situation. Emmie will also do her best to make sure you have the most up to date information!
You can call us on 952 883 151 (we get notified of messages!)
You can email us at [email protected]
You can WhatsApp us on 699703936
Stay healthy and we look forward to continuing to see you as you need us!