Let's get the party started!
 I would like to cordially invite you to celebrate Bodyworks' 10th Birthday with me
Friday 26th September
5pm – 9pm
at Bodyworks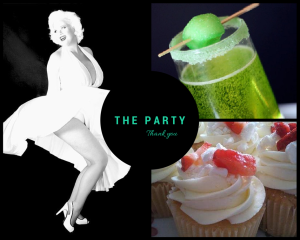 There will be music provided by the ever fabulous "The Real Marilyn Monroe". Is there anyone on the coast more fabulously glamorous?
There will be divine "chocolate mud" cupcakes from the delicious "Sunshine Cakes Estepona"
Cava and, of course, a bespoke cocktail just for us – the Emerald Sparkle!
Fabulous goodie bags for every guest with an hour's free legal consultation from STM Nummos, a free total ear health check from Peter Ormrod, our audiologist who is also celebrating 10 years in practice as well as gifts and goodies from me (a girl has to have some secrets!)
And in aid of Aspandem a stunning prize draw –
A flat screen TV provided by the ever supportive Euro Weekly Newspaper
A Bupa Travel Insurance courtesy of the super generous STM Nummos
A full acupuncture treatment from Carole Dumenil, our acupuncturist, either traditional or her lovely facial rejuvenation treatment
A Full Body Screening from me
And 6 "Rescue Packs"
All this and a chance to speak to our practitioners, have a good nosy round the clinic and generally have a lovely time.
I really hope you can join us, even if only briefly as I want to take this opportunity to say a HUGE thank you to everyone who has been there and supported me over the last decade. It's been an amazing roller coaster and I hope you will all come along for the ride for the next 10 years as well – who knows what will happen next?!
Thank you,
Estelle