Scoliosis
With the Olympics just finished we have had plenty of chances to see "perfect" bodies. But did you know how many Olympic athletes past and present had scoliosis?
Usain Bolt
 – Jamaican runner (you may have heard of him?!)
Alexandra Marinescu
 – Romanian gymnast
Jon Olsen
 – swimmer for the USA
Jennifer Thompson
 – swimmer for the USA, one of the most decorated Olympians in history
What is Scoliosis?
Scoliosis is a term used to describe any sideways curvature of the spine, and
idiopathic scoliosis
, which occurs in about 2% of the population, has no known cause.
When and who to check
Scoliosis is usually seen during a child's growth spurt – 10 – 15 years old. Girls are 8 times more likely to need treatment so it is recommended to check them at 10 and 12 years old while boys are recommended to be checked just once at 13. Scoliosis curves can get worse very quickly during the growth spurt so can seem to appear "overnight"! Bad posture, sports and heavy school bags DO NOT cause scoliosis. In fact staying active and playing sport will
help
the muscles.
What to look for
Interestingly back pain is NOT considered a scoliosis symptom.
Uneven shoulders, or protrusion of one shoulder blade
One hip higher than the other
The body tilts to one side
Constipation, irregular periods and difficulty breathing can also appear due to constriction of the internal organs.
What to do
When a Doctor or physiotherapist has diagnosed the scoliosis, often with an X-ray, the treatment will depend on how severe the curvature is. For severe curves braces may be used to prevent further curvature. In some advanced cases surgery may be needed. But for most people with scoliosis it will be a case of monitoring the spine and physiotherapy to improve the shape and look of the body. Physiotherapy will help to improve the muscle tone to offset the effects of the scoliosis, helping you stand straighter and improve your breathing and internal organ function. It will also help to prevent any back pain associated with the scoliosis. Or book a
Free 15 minute telephone consultation
to find out how we can help.
---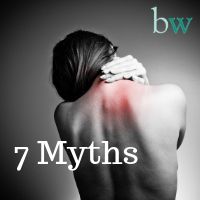 7 things your doctor didn't tell you about back pain
Complete the form below to get Estelle's simple free guide to resolving back pain.