Knitted Knockers
At which point you ask, "what on earth is a knitted knocker?!" And wonder whether I have completely lost the plot!
A Knitted Knocker is a breast prosthesis, knitted by volunteers, with 100% cotton yarn and filled with non-allergenic stuffing. And provided FREE to anyone who needs one.
There, that's the technical bit out of the way!
How much do your boobs weigh?
A question that many a woman, particularly those more blessed than I, has probably given some thought to.
But what happens when one, or both, of those boobs has to be removed?
A single or double mastectomy is becoming a more common aspect of our lives. As cancer treatment improves we are left with a new set of issues for the survivors.
After a mastectomy there is a conversation to be had regarding reconstruction – to do or not to do.
But even if you go ahead with reconstruction there will often be a period where you are without one, or both boobs.
Lopsided
At this point some super helpful nurse, doctor or pharmacist may present you with one of these: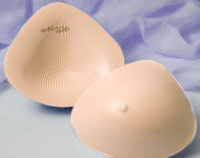 That's a silicone breast prosthesis. There are gel ones and other types as well. But they have a few things in common:
Hot
Heavy
They get stuck to the skin (and make an oddly rude sound when they unstick!)
Not useable when swimming
a LOT of different shapes so it might take you ages to find one so you have a matching set again.
Knitted Knockers
Or, thanks to a fabulous bunch of ladies across Spain and here on the Costa del Sol, you can try a Knitted Knocker.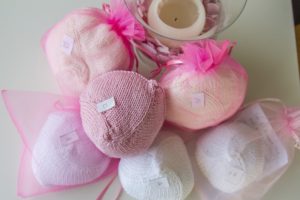 They're light
They're 100% cotton so just as comfy when you get hot and sweaty (well as comfy as anyone in a bra ever is!)
They're machine washable
You adjust them so they are the right shape and size for a matched set
There's a swimming / beach option
They're FREE
And personally I think they are bloody marvellous!
What can I do?
That's a fantastic question!
Download a pattern – if you can knit or crochet get going! The organisation here on the Costa del Sol will provide you with yarn and stuffing.
Tell everybody you know about them! Tell your friends about these wonderful FREE prosthesis.
Donate – the knitters donate their time but the yarn and shipping all need to be paid for. Knitted Knockers is a registered charity here in Spain and you can donate online at their website. Or leave a few euros with us at the Clinic – we're sorting out a collection point.
I want one!
It is super easy – use the contact form on their website.
Remember to tell us:
Cup size of your bra
Preferred colour/s (White/ neutral/ soft colour/ dark/ black)
Standard or aqua (swimming) knocker
Number required (we usually send two knockers as standard but, if you have had a double mastectomy, we will send four)
Any other instructions or requests you may have
More questions?
I have a sample Knitted Knocker at the clinic, so if you want to see what one looks like "in the flesh" then pop by and have a squeeze!
Or contact the lovely Maria Bailey with any and all questions you may have. There are no such things as silly questions at Knitted Knockers!