New home for Bodyworks!
We are on the move!!!
After 13 years Bodyworks has outgrown our wonderful green home in Cancelada and we are moving to new premises in San Pedro de Alcantara!
We will, of course, maintain our current excellent clinical standards and treatments but the new location means we can offer even more!
Audiology Centre of Excellence
Peter Ormrod, our audiologist, has worked with us for some years now, but designing a new location from scratch means that we can become a Phonak Centre of Excellence.
Not only will we be able to offer Peter's years of experience and expertise but combine it with the latest technology to provide outstanding results.
The consultation will still be free, Peter will still do home visits as well, but new, integrated equipment in the clinic takes our audiology service to a whole new level.
Biomechanical Golf Swing Analysis
The new location also gives us plenty of room to work with Mark MacRae, golf professional with the Gecko Golf Tour and Players Academy.
Combining Mark and my expertise we will be able to offer a detailed golf swing analysis looking at how you move from head to toe. This is such a fun combination of technology and expertise and includes tools that we can demonstrate on the spot to improve your swing!
So if you want to get better at golf – get a better understanding of how you move!
Vionic Winter Range
With more space and a more convenient location we can expand our range of Vionic Orthopaedic shoes from "just" sandals to include boots, court shoes, wedges, men's boots, hiking shoes and so much more!
The details of the full range will be here soon but you can check them out and try them on at our opening party!
Magnetic Resonance Therapy
With dedicated rooms and easier access we can offer the same amazing results as ever but in even greater comfort. And there are some more surprises coming soon as well but we need floors and walls for them!
Gait Analysis
With better space, an upgraded system and more options for ongoing support this service will continue to offer the best option for resolving foot, ankle and lower limb problems.
Physiotherapy
And of course I will still be there doing the same diagnostic and rehabilitation physiotherapy that I have been doing for the last *ahem* 30 years! Just with a new, snazzy room with gorgeous natural light! Still me, still my fingers!
When . . . .
Friday 22nd September – 5 -8pm – Our opening and launch party!!! 
Of course the 60 million euro question is when the builders will be out before that!
But, we will keep you posted on where we are and when we change over officially but please be patient with us during this time of transition.
Where!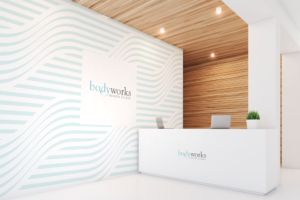 Centro Comercial La Colonia,
Módulo 1, Local 23
Avd. Virgen del Rocío, s/n
29670
San Pedro de Alcántara
Málaga, España
Also known as – right above McDonalds in San Pedro! (is it an upgrade that we've gone from directions with Burger King to McDonalds?)
Plenty of parking right outside the door, not 1 but 2 places to get a coffee or a bite to eat, shops, a bus stop . . . . civilisation!!!!
Can you tell I am a teensy bit excited?!