Treatment Packages
At Bodyworks our aim is to get you back to your life in the quickest, most effective way possible.
With that in mind, over the last decade or so we have found that there are certain combinations of treatments that get consistent results for most people. To try and make this as clear as possible for you we have outlined them below.
This way you know what to expect of your time with us at Bodyworks.
Now there is a LARGE caveat to all of this – YOU! Because you are a unique person and have unique challenges. So, after our initial consultation we might need to alter this a bit, swap one thing for another, change things up a bit, rearrange the usual schedule . . . . . if that's required we will make sure to explain that to you right at the beginning so you know what will be different for you.
Nothing starts until you have had a full consultation and assessment with me. If we've seen you before this should only take an hour or so to update the situation and make a plan, if we haven't seen you before then this take a bit longer.
You can read more about this process here.
Magnetic Resonance Therapy Important Notes
Each Magnetic Resonance Therapy treatment takes 1 hour.
Ideally we recommend 1 hour of MRT per day, followed by stretching or additional treatment as required. So please allow 1 hour 30 minutes at least for your therapy.
Treatment takes place on consecutive days! We cannot take a break until you have completed 3 hours of treatment so we will only start therapy on a Monday, Tuesday or Wednesday so you have enough days before the weekend.
It is possible to do 2 hours of treatment within the same day so we can work around your schedule requirements.
MRT Packages
Quick Fix – 900€
This is the option if you're stuck for time. We understand that real life sometimes gets in the way of an ideal treatment plan. This will get you out of pain and buy you enough time to get comprehensive treatment when life allows.
Alternatively this might be the complete solution if your injury is less than 12 weeks old and you're no longer in the teenager category.
5 hours MRT
1 pair of Formthotics insoles
daily physiotherapy session (before, during or after) as well as follow up reviews
5 Mobiliser Sessions
Long Term Solution – 1,300€
For those of you familiar with our previous MRT therapy structure this is comparable to the 9 hour therapy package.
The advantage now is that you can now complete this in 1 week rather than 2 (we do 2 x 1 hour on 2 days!).
This is the most common solution for our patients. It treats and manages long term problems, is suitable for anyone regardless of their age or how long they have had the condition.
7 hours MRT
1 pair Formthotics insoles
daily physiotherapy session (before, during or after) as well as follow up reviews
10 Mobiliser Sessions
Chronic Pain – 1,500€
This therapy option is for those patients who have other, complicating factors involved in their diagnosis.
For those patients who require this option we will only do 1 hour of treatment per day.
9 hours MRT
1 pair Formthotics insoles
daily physiotherapy session (before, during or after) as well as follow up reviews
10 Mobiliser Sessions
Variations
Daily physiotherapy sessions can also be substituted to include acupuncture, reflexology or stretching classes based on personal preference and your discussions during the initial consultation.
Ongoing support
Every patient with the MRT receives 3 months membership as part of their package. This gives you full access to as much support as you require in the form that you require it. And the control to create the support that works best for you.
Sports Injuries
Need a quick solution for a recent injury? For our members we do offer 3 hour packages for quick rehabilitation and return to sport after injury for: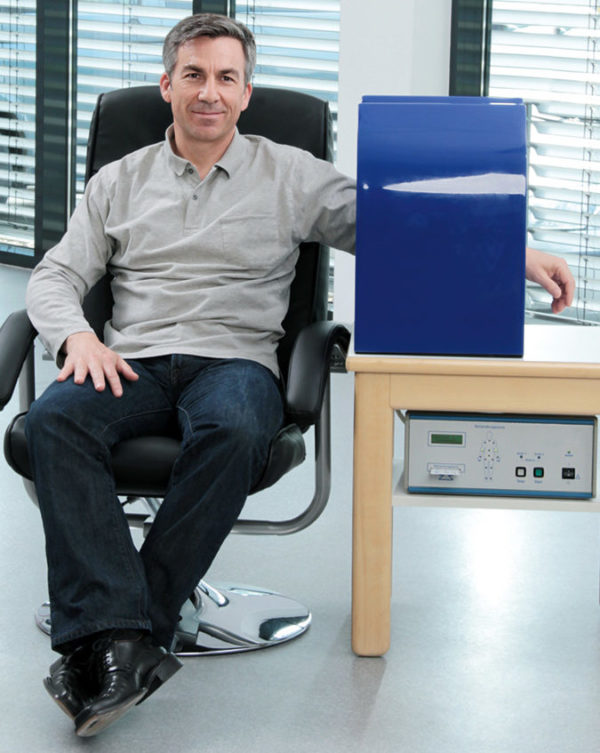 Single Foot
Single Ankle
Single Knee
Single Elbow
Hands
Wrists
Prices are detailed in our membership package
Please note that membership packages do NOT include the initial consultation or any additional treatment, however it is available at membership prices.
Alterations where needed
These packages can (and will!) be tailored to provide the support that you need during your treatment here at the clinic. That's the whole point of our initial consultation – to establish exactly what is best for you as an individual.
Caveats and Small Print
All packages are payable in full on the first day of treatment, otherwise individual prices will apply.
Magnetic Resonance Therapy is NOT suitable for the following patients:
Pregnant
Pacemaker
Cancer (you must have been in remission for at least 5 years)
HIV / AIDS
Download our free MRT Information Pack